A Dual BA Perspective: Amnesty International
Dual BA students share their experiences working with the Amnesty International chapters at Sciences Po and at Columbia University.
December 18, 2018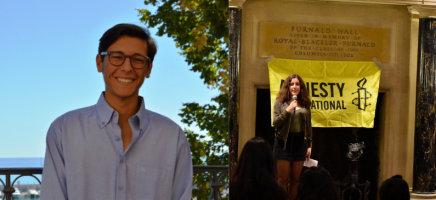 Unlike most undergraduates, students in the Dual BA Program Between Columbia University and Sciences Po do not spend the entirety of their undergraduate experience on one campus. Instead, they begin their studies in France (in Menton, Reims or Le Havre — three distinctly different cities)— studying social sciences with a regional focus. Then, they travel to New York City during the summer of their sophomore year, where they spend two years on Columbia's campus.
Although this move allows students to diversify their experiences, the transition from a small city in France to New York City can be challenging. Students often opt for some sort of continuity, by engaging in similar activities they enjoyed on their Sciences Po campuses, keeping them "à deux doigts" (a hair's breadth) from their previous lives, despite being an ocean apart.
One way that students can stay engaged in the same activities is through student associations such as Amnesty International. Lorenzo Lamo '21, a second-year Dual BA student on the Menton campus and President of Amnesty International Sciences Po Campus de Menton, wanted to ensure that during his first years in the Program he stayed engaged in what was happening on campus and in his region.
"While living in the south of France means waking up with a view of the Mediterranean sea and walking through colorful streets to get to class, it also implies living in a bubble," said Lamo. "This aesthetically pleasing environment makes it easy to forget the fact that a migratory crisis is taking place at our footsteps and people's human rights are denied on a day-to-day basis."
Lorenzo joined the Campus' Amnesty International wing in an effort to be civically engaged, and not spend his two years in the Cote d'Azur as a tourist. Alongside the association, Lorenzo has organized and been involved in many activities such as awareness campaigns, research conferences, and food distributions along the border. Lorenzo acknowledged that being a part of Amnesty International on the Menton campus allowed him to engage with a wide variety of issues, and learn the importance of local advocacy.
"While I don't think that petitions are the key to ending armed conflicts, torture, or political imprisonment, I do believe they represent a crucial first step. As the famous saying goes, 'the first step in solving any problem is recognizing there is one.'"
Fourth-year Dual BA student Nastassia Maes '19 found out about Amnesty International's chapter on the Columbia campus during the activities fair in the fall of her first year on campus. She began attending their weekly discussion meeting which dealt with topics such as the death penalty, and encouraged activities such as letter writing and petition signing. Participating in the club's meeting came as a result of Nastassia's interest in human rights, and her previous involvement with UNICEF France at Sciences Po's Reims campus. Like Lorenzo, Nastassia began organizing and participating in many of their initiatives, such as a movie screening and the annual Slamnesty event. The event allows poets and musicians to perform and to engage with the audience in collaborative arts and crafts dealing with human right issues at large.
"Columbia's Amnesty International chapter unsurprisingly turned out to be a great venue during my first year here for meeting and befriending students outside of the Dual BA Program, with a variety of backgrounds, and personal and academic interests. It also provided a space for me to discuss and apply concepts taught in class, and to engage in grassroots work," Maes said.
Learn more about the Dual BA Program and ways to get involved at gs.columbia.edu/sciences-po and follow along on Facebook.